Healing & Channeling Tour – Budapest
July 1, 2018 @ 10:00 am

-

2:00 pm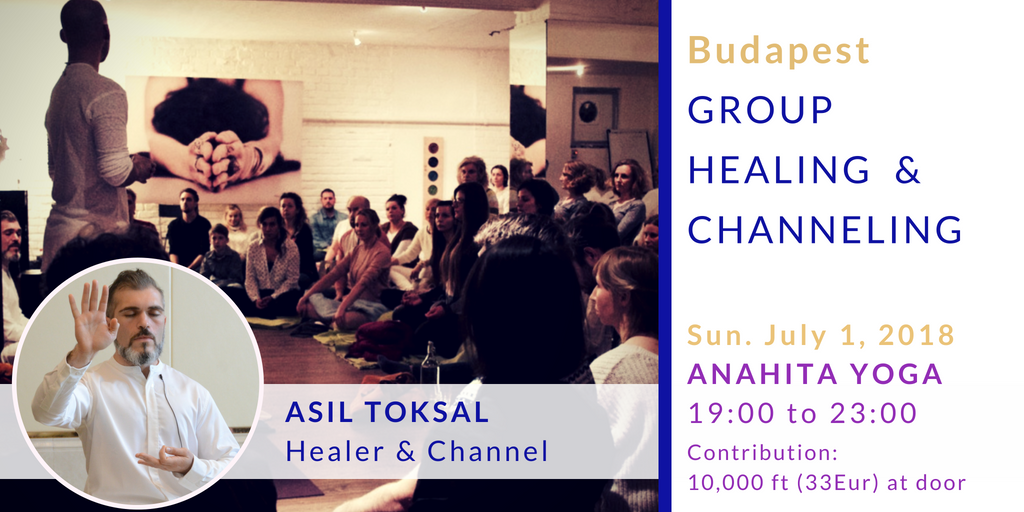 You are invited to the Budapest (Hungary) stop of the Healing & Channeling tour through Europe of Asil Toksal, who channels angelic and archangelic beings for healing and spoken wisdom. 

This space held and the event is considered sacred and is intended to elevate and deliver healing through the purest energies available to receive in our plane of existence. We truly hope that you can find the time and space to participate. ♥

* Event will be translated English into Hungarian in Session. * 
* Contribution: 10,000ft (approx. 33 Euro) – pay at the door. *

What to expect? 

Asil will be channeling over a period of 2-3 hours angelic and archangelic beings. In this timeframe, there will be times of silence and quiet contemplation, energy healing ("hands-on" and "hands-off") and spoken channeling. 
You are invited to come with an open mind and heart, and ready to give permission to be worked on for healing and growth. We recommend that you open to the energy that is brought into the room with intent, prayer, and spirit. 
It is suggested to experience the event sitting and in a meditative state, while a regular meditation practice is not a prerequisite. We understand that some need to lie down may even fall asleep. We will only wake you up if you are snoring. 🙂
We ask that you free yourself from any responsibilities for the timeframe of the session so that you can be fully present. Turn off your phone during the entire session. 
No food, photography or video is allowed during the session. 

How to prepare? 
Any existing spiritual practice (meditations, prayers, yoga, etc.) is good to intensify as you prepare for the session. Aligning your intention for yourself and your loved ones. Quieting your mind and heart so this experience can serve you in the deepest way. 

Days before: Some people begin to experience early signs of divine help before the session- pay attention & take note. Some early signs that have been reported are light-headedness, vivid dreams, headaches, high pitch sounds, etc. Please, no alcohol, drugs or medications (that you can safely skip). Please let us know if you have any difficult sickness of a physical or spiritual kind. 

The night before: Try to get a good night sleep. Skip the party, socializing, intense movies and set an intention before you go to bed for the next day's session. 
Day of: Eat healthy nutritional food. Try to skip lunch so that you fast for a few hours before the session. It helps to be light in the body. 

What should I bring to the session? What should I wear? 
We would love to see you in white clothing if you can. Bright colors also welcome. Please avoid wearing black. 
If you have a mat, blanket, cushion, meditation pillow etc. please bring those along so that you are comfortable during the session. 
If you have spiritual objects of personal connection please bring them along. Photos of loved ones are also welcome. 

What kind of questions can be asked to the channeled being during the Q&A? 
In a big group session, the channeled beings will not answer personal questions directly, e.g. what your purpose is, if you should leave your job, or marry your partner. The channeled being will also not answer questions that regard the future, your personal future or the future of humanity directly. 
We suggest to ask open-ended questions and not "yes, no" questions. Please stick to one question per person until there is space for more questions. We ask you to pose short questions and not fill this sacred time with long personal stories. We have small group events for these kinds of questions/requests. 
We have assembled a list of frequently asked questions that have been answered in the past by the channel, this will offer more perspective on what to ask.