Book your Individual Session with Asil Toksal
November 12, 2018 @ 10:00 pm

-

November 14, 2018 @ 6:00 am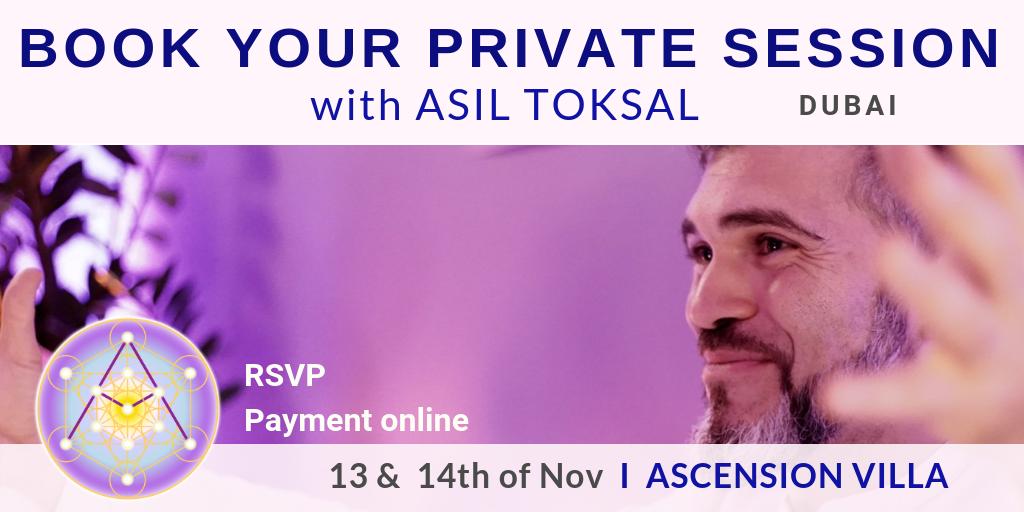 Asil Toksal is specially offering Individual sessions during his november stay in Dubai. 
YOU CAN BOOK YOUR PRIVATE SESSION ONLY IF YOU HAVE ATTENDED ONE OF THE GROUP SESSION WITH ASIL BEFORE. This requirement is beneficial for your private session so you are already tuned in the energy and your 1n1 encounter with the channel be more focused.
Make sure that you book and commit to your appointment carefully. Select your day and timing.
Read more about Asil:  https://asiltoksal.com/about/about-asil/

WHAT HAPPENS IN A INDIVIDUAL SESSION WITH ASIL?
It is a rare privilege and opportunity to receive a private (one-on-one) session with the Channel that Asil brings forth. Private sessions are a special time where the individual can receive a space where detailed personal questions and personal downloads from the Channel can be delivered to you.
This session is scheduled to be a 60 minute session, that often runs longer upto 75 minutes and but rarely to 90 mins. We still recommend you take the full 90 minutes of time in your schedule.


In this space Asil will first have a brief introductory conversation with you to get to know you a bit better and what you are seeking help and support for.


Then Asil will open the channel, which often results in an individual, hands-on healing session, this is often performed by Raphael, Michael or an angelic healer/saint.


After the healing is conducted and finished, often a spoken channeling will start. This is often conducted by Emmanuel or another angelic being that is more specific to you or closer to your soul family. In this space you can ask personal questions and will often receive specific direction for your life.


All sessions are recorded via audio, and you will receive the recording. All non-specific questions/answers that could benefit other fellow humans will be published publicly. Your name and private questions/answers will remain private and not published anywhere.


Private sessions are often intense, and can create emotional, mental, physical symptoms, similar to the large group sessions. It is recommended that you come well rested/prepared (see

 your email of confirmation)

, and take time afterwards to rest without any social or work commitments (you will receive a post-care email). The sessions effect often lasts for multiple days after, can require you to take time off from work or friends in order to rest and integrate the work that has taken place.


In the sessions often a female or male assistant will be present to hold space and assist you with any needs you may have, e.g. go to bathroom, a glass of water, since Asil himself will not be able to help you with those matters during that time.
Sometimes there will be no healing aspect, and purely a spoken channeling, and sometimes it will be purely the healing aspect and no spoken channeling, but most often it will be both aspects, healing & spoken channeling. This is all to the discretion of the channel to decide what is currently needed most.
All sessions (even if scheduled & fully paid) are subject to be cancelled, for any reason that may come up before. Channel decides it is not the right time for a session, Asil does not feel in the perfect state to provide his work, or other cosmological issues prevent the channel from being accessed. The session can then be postponed or you can be fully refunded. This work with spirit is powerful and also does not operate in the ways we operate in our 3D world, so it will take sometimes its own direction, which we call "everything at the right time".
The spiritual healings delivered by the channel are powerful, and have in many cases resulted in physical, emotional, mental and spiritual healing, yet do not carry any guarantee, nor is this session a replacement to professional medical help that you may require or are currently working with. Please share any medical history and prescription medication and spiritual healing history with us before the session.
CANCELATION POLICY FOR THE CLIENT
Appointments are booked in advance and for a common respect (of yourself / other clients / healer), cancellation and rescheduling will only be possible up to 36 hours prior to the appointment.
Late cancelation, last minute rescheduling of session and no-shows will counted as paid for.
LOCATION
Ascension Platforms
Dubai, Springs 4, St 7, Villa 27.
Map: https://goo.gl/maps/dngnXed7xgz

MORE EVENTS WITH ASIL IN DUBAI
11 NOV – 3hrs GROUP SESSION at Ascension Platforms (Springs 4) – 7:30pm – 550AED
https://www.eventbrite.com/e/private-group-healing-channeling-i-asil-toksal-ascensionvilla-registration-51449542968
Mini Group Session of 5pax max. Create your group. Session of 3hrs. 4900AED. Connect with Mathilde directly 0509105688
With High Crystalline Frequency of Love, Light and Unity to your Diamond Heart.


Mathilde Lumiere ElyiahRa | 050 910 5688

connect@ascensionplatforms.com