EGYPT GALACTIC RETREAT – Oct 2018
October 19, 2018 @ 4:00 am

-

October 27, 2018 @ 4:00 am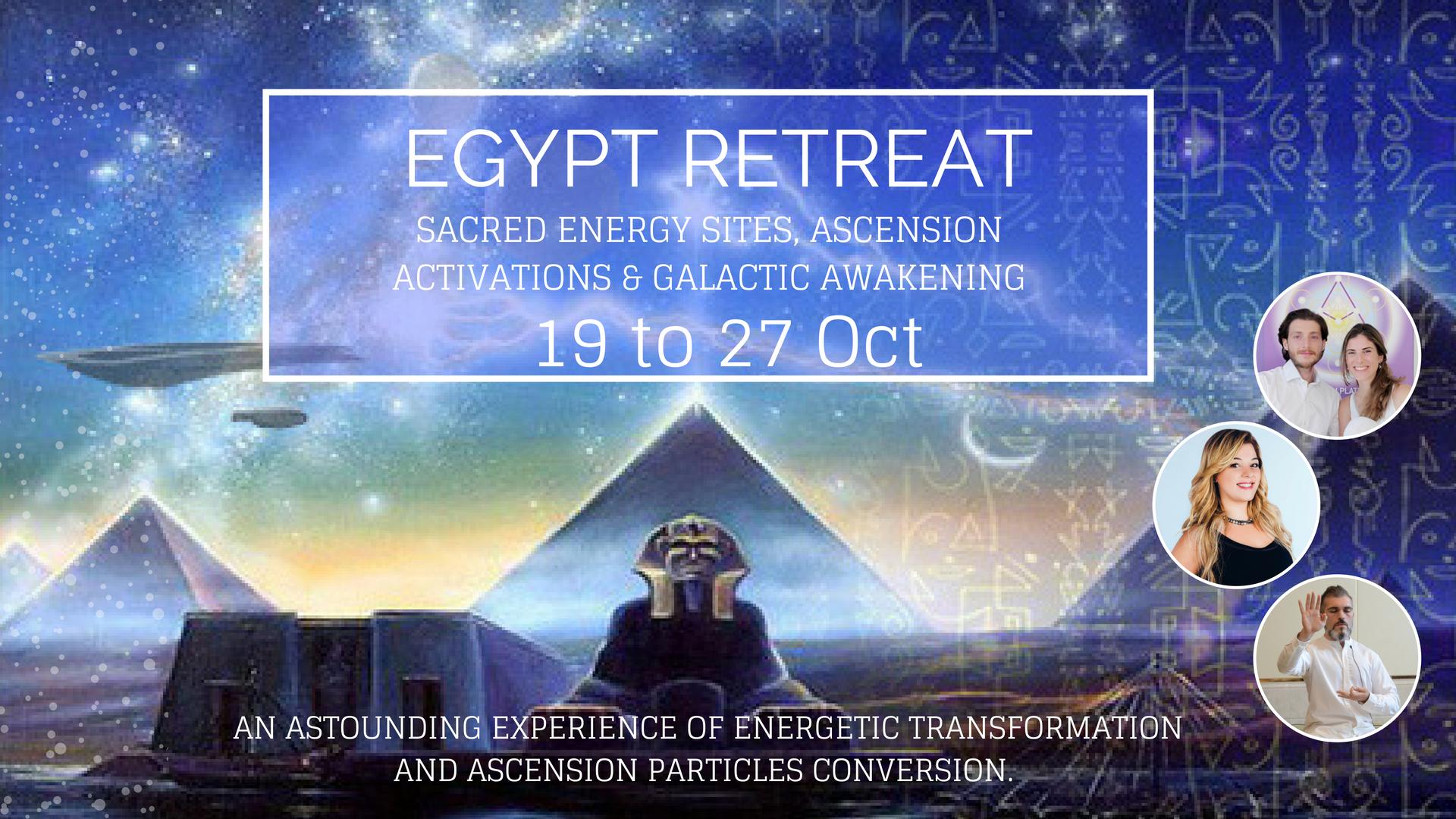 Egypt Retreat 2018 – October 19th to 27th
Sacred energy sites, ascension activations and galactic awakening.
AN ASTOUNDING EXPERIENCE of energetic transformation and Ascension particles convergence.
Soul by soul, we are co-creating a transition to a new reality. With each elevation in planetary energies, there are new openings to release soul-level blocks and receive new life potential, individually and collectively. In support of this uplift, we travel worldwide to key high vibrational nodes, gateways of galactic consciousness and ancient sacred energy sites.
Join us in Egypt and bring your 5D timeline closer to you, in bathing into a high vibrational land, lay lines and vortexes of innate wisdom, reconnecting to your Divine essence and awakening your DNA Ascension template.
This Egypt Retreat is primarily to align new frequencies, clear energetic disruptions, re-awakening dormant DNA, activate your Diamond Light Body, expand cosmic connections for ascension activations and to open dimensional gateways, for both individual souls realization and planetary consciousness.
This is a profound and completely Enlightening 8 day Retreat
In which you will be submerged in DNA upgrades, galactic awakening, downloads, healings, activations, and ascension teachings-remembering. Where you will be immersed in pure high frequencies in everything you do.
This is an invitation to participate in a full spectrum of releasing and upgrading of mind, bodies, heart and soul. It will be an experiential immersion, clearing and activating your carbon based cells into their crystalline form which holds more of the higher frequencies and light.

During your UNIQUE TRANSFORMATIONAL RETREAT you will have AN OPPORTUNITY TO:
· Enjoy 6 nights in our private boat cruise and 2 nights in a luxury hotel
· Visit and experience 13 sacred locations and energy portals
· Privately Access the King and Queen Chamber in the Great Pyramid
· Receive activations, initiations and sacred journeys every day
· Remember the deeper mysteries of ancient egypts and galactic families
· Balance with chakra yoga, breathing and channel opening morning practice
· Nourish with delicious Vegetarian / Vegan meals
· Integrate each evening with sound healing or guided meditation
· Rejoice in a cacao ceremony for powerful heart opening
· Heal in a group session with Asil Toskal
· Receive spiritual, consciousness and Ascension talks & discussions
· Connect to the ancient Egyptian wisdom 
· Infuse your cells and the Earth grid with channeling, high codes frequency light transmissions & light language
If this excites you and you feel ready for the trip of a lifetime, register in this event to receive the entire itinerary, brochure and application form.

YOUR ONE WAY TICKET TO YOUR 5D EMBODIMENT
Obviously for this trip we have limited numbers so if your feelings are aligned and you would like to be part of these catalyst powerful 8 days; follow the link to lock down your place in our spaceship. Note that the early bird price is only available up to the 27th of August.
We will be visiting 13 temples and initiation chambers through Egypt from Cairo to Aswan and doing excursions including all the major temples. Such as Giza Plateau, Serapeum of Saqqara, the temple of sound and light in Dashur, Karnak, Luxor, Dendarah and Hathor Temple, Osirion temple, Edfu and Horus Temple, Isis Temple, through private boat cruise, private bus and felucca sailing with an awakened egyptologist tour guide available.
We are opening the sacred retreat for committed souls and activated pillars of light, who want to access their own Inner Wisdom. So ideally you have done some training and have enough experience with energy and vibration as you will embody further your gridprogammers roles.
INVESTEMENT FEE – REGISTER TODAY
Early bird: AED 10,400 (USD 2,830) –  till 27th of August
Regular Price: AED 11,500 (USD 3,130)
Choice of single occupancy upon request – Extra for Single Occupancy $500
*** Installment Plans Available *** 
Book your spot on this galactic spaceship DNA activation Retreat.
Fill in the Registration Form attached in the email you will receive and send it back to: galacticretreats@gmail.com.
YOUR FACILITATORS
4 cosmic channels, spiritual teachers, ascension guides, lightworkers, Love alchemists and gridprogramers.
– Asil Toksal (www.asiltoksal.com)
– Mathilde Lumiere (www.ascensionplatforms.com)
– Nada Harb (www.elevateurvibration.com)
– YogiGeorge SunRa (www.ascensionplatforms.com)
PROGRAM –  8 days of Ascension particles convergence
-> For the detailed itinerary, register in this event to receive the brochure and application form.
Day 1 – 19/10 Arrival in Cairo – Giza
1PM: Check-in Hotel Le Meridien Pyramids Hotel
We start with Asil's group channeling session in the evening.
Day 2 – 20/10 Giza Pyramids & Sphinx
Morning we visit Egypt Museum.
In the afternoon we discover the Giza Plateau and Sphynx.
With a special Privatisation of the King's chamber in the Great pyramid.
Day 3- 21/10 Dashur + Saqqarah
Morning we travel to Dashur to visit the Red Pyramid
and then in the afternoon we drive to Saqqarah to visit Serapeum.
Day 4 – 22/10 Flight to Luxor + Abydos & Dendarah
Early flight, arriving and settling in our private boat cruise
Visit of Temple of Seti & the Osirion, with the Flower of Life.
Afternoon to Dendarah visiting Hathor Temple and the birth house of isis
Day 5 – 23/10 Luxor
Karnac Temple with a special activation-transmission in Sekhmet chapel (the Solar Lioness Goddess) and at the seven dimensional gateway of Osiris.
Afternoon we visit Luxor temple.
We start sailing up the Nile.
DAY 6 – 24/10 Edfu
Morning visit Edfu Temple. (Horus temple)
Day sailing up the Nile
Sunset Cacao ceremony
Day 7 – 25/10 Komombo Temples & Aswan
Visit of Komombo, Sobek Temple
In the afternoon, we are in Aswan visiting and sailing around nubian Islands in felucca boat.

DAY 8 – 26/10 Philae
Sunrise visit to Isis Temple in Philae.
An afternoon for integration with Galactic Breathwork activation and silence.
DAY 9 – 27/10 Departure
7:30 AM : Morning Integration practice
A bus will drive us to the international airport catching an early flight from Aswan to your 3D Home (there will be a connection flight in Cairo international Airport).
Many blessings to your heart, for choosing to dedicate yourself to this journey of ascension awakening and grounding your spiritual light into your beautiful physical body. We look forward to meeting at this contracted soul appointment sharing this exquisite experience and deep work together, and we are honoured to be your guides in your retreat within in this time of remarkable transformation. From our Hearts to yours. With Love and Golden Diamond Light.