Abu Dhabi: Small Group Healing and Channeling with Asil Toksal
December 16 @ 7:30 pm

-

10:30 pm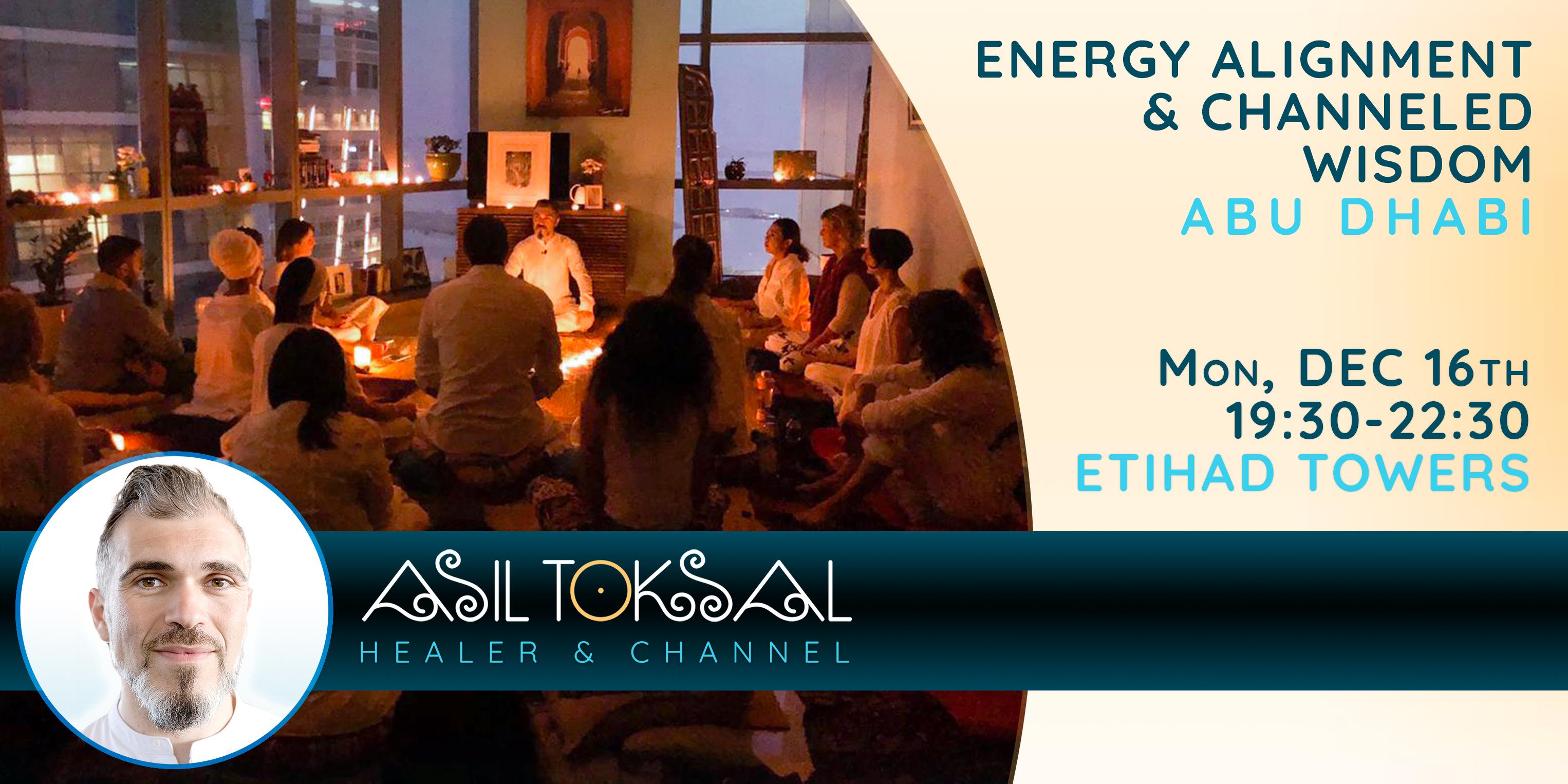 Welcome to the 3 hour Small Group Healing and Channeling session with Asil Toksal. 
This is a unusually small sized group (20-30 participants max) as Asil's sessions are 100+ individuals. 
It is an invitation to a unique experience of deep healing and channeled wisdom. If this resonates with you, please join with an open heart and mind.
Read below for further information and how to prepare for this session.
PLEASE REGISTER VIA EVENTBRITE TO SECURE YOUR PLACE
Arrival: 19.30 – please arrive on time so we can start together
Start: 20.00 latest (and we will close doors)
End: 22.30
LOCATION: 
Etihad Towers, T4, Apartment 5704, Abu Dhabi
Parking:
You can park at the visitor parking (AED 10 per hour) or valet at the Jumeirah Hotel. If you get a warm drink on the go afterwards, this will validate your parking ticket.

CONTRIBUTION / ENERGY EXCHANGE
This event due to its small size and limitation of the venue will require booking your spot ahead of time. We lovingly suggest an offering of 500AED per person. 
FURTHER INFORMATION:

The session is a deep 3-hour immersion into high-frequency presence. During these sessions, Asil Toksal opens up to channel high-vibrational energy and angelic and archangelic beings. 
In the first half of this session, we let our minds rest as Asil embodies the celestial entity 'Raphael,' who will provide high frequency presence and assistance with various personal misalignments, be they spiritual, emotional, mental or physical. 
The second half the session is a Q&A where the participants can ask questions directly to the channelled spiritual being, who is referred to as 'Emmanuel.'
YOUR EXPERIENCE OF THE SESSION
Many attendees report the experience of peace, various forms of healing, transmissions of information, messages, light and energy during the session. The alignments often lead to recognizable improvements in people's lives weeks and months after a session.
We invite you to join us with an open mind and heart, which creates the necessary conditions for healing and growth. We recommend that you open yourself to the energy that is brought into the room with a clear intention on where your life and the life of your loved ones requires alignment and intervention. 
A relaxed mind and the willingness to "go deeper" allows participants to expand beyond what they thought is possible. 
Please read carefully the information below for your self-preparation.
ABOUT ASIL
Asil Toksal is an Austrian-born channel and healer. His work includes working in groups, providing energy healing & alignments and the channeling of celestial and angelic guides. He is also guided to separately work on sacred sites and earth energies. The goal of both aspects of this work is to assist in the evolution of consciousness in humanity. He has travelled widely to do this work, throughout the United States, Europe, Asia, and the Middle East.
Read below for further information and how to prepare for this session.
GETTING THE MOST FROM A SESSION
– Set your intention for the session. To some degree you can steer where the energy should go.
– Please arrive on time or before time. We start at 20:00, and you will not be able to enter after this time.
– Go easy on yourself, and plan to be in the session until as late as 22:30
– It is recommended that you eat light the day of the session. No alcohol or drugs.
– Make sure to get adequate sleep prior to the session and not have big social activities after the session
We ask that you free yourself from any responsibilities for the duration of the session so that you can be fully present.
Please turn off your phone during the entire session.
TO BRING
– Wear white comfortable clothes or light colours (please avoid black or dark colours) 
– Yoga Mat
– Pillow
– Blanket
– Water & tissues
No food, photography or video is allowed during the session. 
Thank you for taking the time to read this and for choosing to dedicate yourself to this process of your awakening and grounding your spiritual light into your physical body.
I look forward to sharing this space and this deep work with you.
With Gratitude, Love, Light


♡ Asil Toksal with the gracious help of the Lightworkers Abu Dhabi team